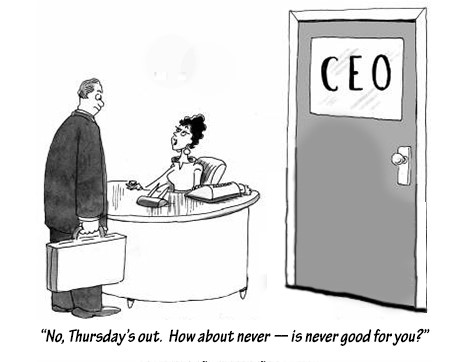 Here is a challenge sales reps face every day. To make a sale, they need to reach a decision maker, but a gatekeeper often stops them in their tracks.
Decision makers are busy, and gatekeepers are rightfully cautious about restricting outsiders' access to their time. Salespeople hoping to get on a decision maker's calendar will have to prove that they are worthy of a phone call or meeting.
This does not mean you should unload your elevator pitch on the gatekeeper. Not only do they lack the authority to buy, they'll probably come away thinking you're a bit thick-headed (which, if you're selling the gatekeeper, is probably true).
So how do you get around that? Here are a few tips.
1. Get personal: Gatekeepers are not your enemy, they are simply doing their job of blocking unwanted calls from decision makers. Stop trying to push past them as if they are an automated telephone system. Instead, focus on building a relationship and rapport with gatekeepers. Try to get them to become your ally and personal advocate.
2. First name basis: The moment you learn the gatekeepers name, write it down and start addressing them by their name. You should be using the gatekeepers name at least two times during the conversation as well. Be sure to put it with the rest of the information on your prospect so you can refer to them properly the next time you call.
3. Leverage their knowledge: By asking the gatekeeper for advice you are showing that you respect their knowledge and value their suggestions. Try asking if there is someone else you should be speaking with or if there is a better time to reach the prospect.
4. Call during off hours: If you feel like you have done everything above and still aren't getting anywhere, start dialing your prospect during off hours like early mornings, lunch, or late evenings. Chances are you are likely to reach someone else who may connect you to the prospect.
Here is another great tip!
It is very simple to call a company and ask to speak with their top salesperson, there are no gatekeepers here!
Research the company using LinkedIn company pages. Reach out and connect with a top salesperson and start building a relationship. A great message to send to them to connect might be mentioning that you have over 500+ connections and there might be an opportunity to collaborate and refer them as well. Always try to give something beneficial. Now you've got your foot in the door. It's not instant but nothing is overnight.
Happy Tuesday & Happy Selling!
Kevin