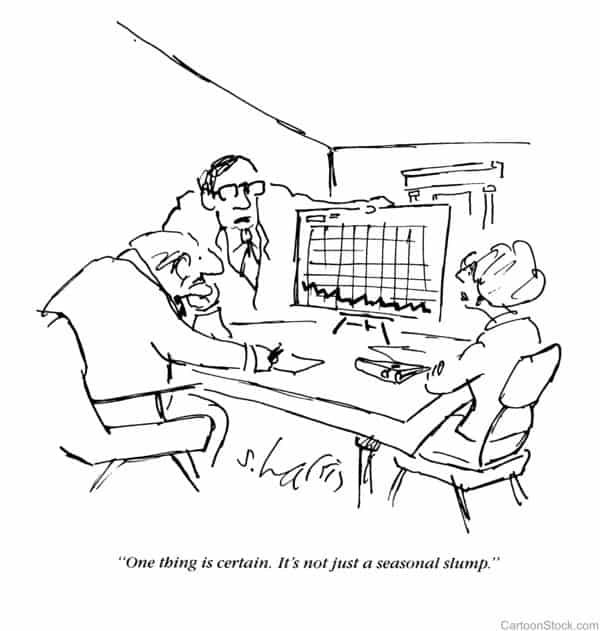 Just last night I was talking to a close friend who lamented the dreaded "Sales Dry Spell" they were stuck in.
It happens to virtually every salesperson.
Experienced business people know it as a fact of life.  Your business is just cruising along splendidly and all of a sudden, things get quiet.  Sales aren't closing.  Nothing's moving forward.
What happened?  You didn't change anything.  Where did the magic go?
The sales dry spell is one of the toughest challenges you'll face in your business.  When you begin getting No's from your prospects, you first hope, it's just a fluke or that you're imagining things.  When it lasts a little longer, you start to wonder "Is it real?" or "What's going on?"
At some point, you must face the inescapable.  You're not closing.  And haven't been for a while.
Then the really insidious stuff begins.  You wonder what you're doing wrong.  You wonder where your skill went.  Was your previous success just luck – nothing to do with skill or competence?  Is the other shoe finally dropping – on your head?
Then your confidence and self-esteem begin that downhill slide like a bobsled at the Olympics.  You start to feel desperate.  And, worst of all, your prospects start to hear it in your voice.
Dry slumps are all in your head. Sales is a numbers game. You've got to get in front of 100 people to close one.  Most of the time, the numbers stay consistent. You talk to 100 people, one buys. Sometimes though, you go through 300 without a single show of interest.
Much like other droughts, sales droughts can end with floods, too. Patience always pays off. When you bust through those 300 without a sale, chances are in the next 100, you'll hit three closes in a row. UNLESS, you let it get to your head. If the drought gets to your head, you may make 1,000 calls or more before you snap out of it…and that's if you snap out of it at all.
Sales is all about numbers. There's no algorithm. There's not a salesman on the planet who doesn't already know this.
So then, why do they let slumps affect them when really there's no such thing as a slump?
Human emotions are some powerful things. After all, the most influential object on earth is the human mind. Emotions are manufactured by our limitless brains. Emotions will almost always interfere with rationality. Even though WE KNOW it's a numbers game, we tend to talk in slumps and lose self-confidence. If we want out, all we need to do is keep hitting numbers.
The best salesmen have learned to avoid emotion and push on no matter what. We listen to motivational speeches, jam to music, read books, exercise and whatever else we can indulge in to avoid emotions. Emotions can cost commissions. Who cares if they say "No!" or don't buy? There's another prospect in line right after them.
With a sucker born every second, no matter what you sell, you'll eventually close a deal.  Just stay in control of your mind and keep pounding the pavement!
To take it one step further, you can call past clients and ask them how they are doing and what results they have obtained through using your stuff. Those testimonials can arm you with word tracks to use in your next meeting. Plus, hearing happy clients will open up your mind and restore confidence in what you're selling again.
Happy Tuesday & Happy Selling!
Kevin