When I founded Banquest Payment Systems, I was driven by one goal: to help my clients be more successful.  Everything we do at Banquest is with that goal in mind.  If there is anything we can do to help a client add more to their bottom line, it is top priority.  Making money takes second place.
As you may have already seen, Banquest has started a new weekly column in the most read Jewish weekly Magazine in the world – Ami Magazine – featuring one of our premiere clients.  Each week we run a full page article, at our expense, which highlights one of our clients in a unique question and answer format.  We have received overwhelming positive feedback and our past featured clients have seen a tremendous increase in business too!
Here is an actual recent article we ran featuring Centers Urgent Care – a Banquest client serving the Tri-State area with Urgent Care facilities: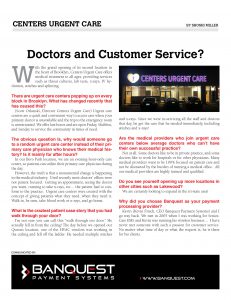 If you would like to have your business featured please contact Shoshi Miller at SMiller@Banquest.com.
Please note: there is very limited availability and priority will be given based on specific qualifying criteria.