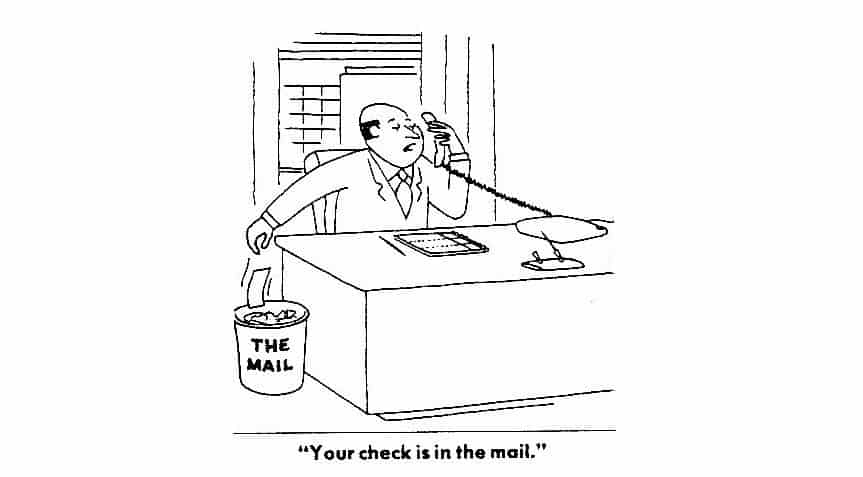 I recently used the services of a talented interior design firm. Shortly thereafter, I received an email with a PDF invoice attached. Scanning the email I was disappointed to see the only payment method available was to mail a check. Now, the last time I wrote a check was when the King of Nigeria promised to wire me $10,000,000 as long as I sent him a check for "shipping & handling"… (hint: that was a long time ago. Nigeria hasn't had a king for 20 years!)
So I immediately (OK, not really immediately… I had to first buy all the necessary equipment i.e. envelopes and stamps) blew the dust off my checkbook and mailed out my payment.
Long story short, there was a major snow storm. Check got lost. Two weeks later they had still not received payment. They were not happy. Issued stop-payment. Mailed out another check. Of course the next day they got the first check. End of story.
Not really.
Before we all went back to our busy lives I introduced the firm to the concept of accepting ACH payments. Any business can be setup with an ACH account which enables them to simply enter a routing and account number (the same info found on the bottom of every check) and automatically withdraw money from their customers account. The cost of a transaction is typically less than a postage stamp! So instead of waiting 48 days to get paid, process an ACH debit and the money is in your account within 48 hours!
I also showed them how we can create an online payment link that they can put on their invoices allowing their customers to easily pay them online – on their own!
Take a look at the web page we created for them:
To hear the rest of the story, or if you want to learn more about accepting ACH payments for your business, feel free to email us at ACH@Banquest.com.
Happy Tuesday & Happy Selling!
–Kevin